https://www.michaelmina.net/restaurants/san-francisco-bay-area/trailblazer_tavern/
I'm kicking off this food review section of my website with a random recent restaurant visit, Michael Mina's fairly-brand-new Trailblazer Tavern, a Hawaiian restaurant in San Francisco, located in one of the Salesforce buildings. The format and layout of these reviews will no doubt change with time. Here's a first stab at it…
For my last Restaurant Week outing, I decided to go Hawaiian and was excited to try Mina's new spot, complete with cocktails. I arrived at 5:30 with a reservation and was seated in the main dining area (there is also the bar, which was packed with a happy hour crowd, and a small patio). It's in an open corner on the 2nd story of a Salesforce building and while the dining area has some decoration, it honestly feels very much like you're dining in a fancy office building. It's not in any way "cozy", and feels a little bare or cookie cutter to me.
Part of the issue here probably has to do with the large and incredibly bright Salesforce display wall that is near the dining area (which is very open to the rest of the interior of the building, albeit a little secluded on the 2nd floor). The display wall shows various undulating patterns and other graphics, visible to the street outside, and at times it's quite soothing, but it can change dramatically in color and brightness, and this cast an odd tone over the lighting of the dining space. I'd be sitting there in relatively normal lighting, when the wall was showing something more subdued, and suddenly a bright blue light would shine in from my peripheral vision as the display changed, casting an odd glow over the dining area.
There are a ton of staff milling about, and service is generally good, but your server can still bottleneck you a bit. That being said there were multiple managers floating around on my visit, and actually stepping in to handle things like bringing drinks, etc. I appreciated that they were hands-on, but I found the sheer number of staff and especially multiple managers to be a little smothering. Again, service was good, I just prefer it to be a little more understated.
The Drinks
I got 3 cocktails, only one of which really stood out to me.
The "Resting Beach Face" is very strawberry-focused, despite that being near the end of the list of ingredients, so that surprised me. It's not bad, just tart-sweet, fruity, and lacking much to make it interesting. The paper straw didn't work well with the crushed ice, either.
The "Peepyopee" was by far my favorite, also a bit sweet but with a nice brightness from the plum wine and a creamy mouth feel perhaps from the avocado washed gin, along with a hint of brine from the kombu vermouth. Spirit-forward but not too strong, and definitely unique as well as tasty.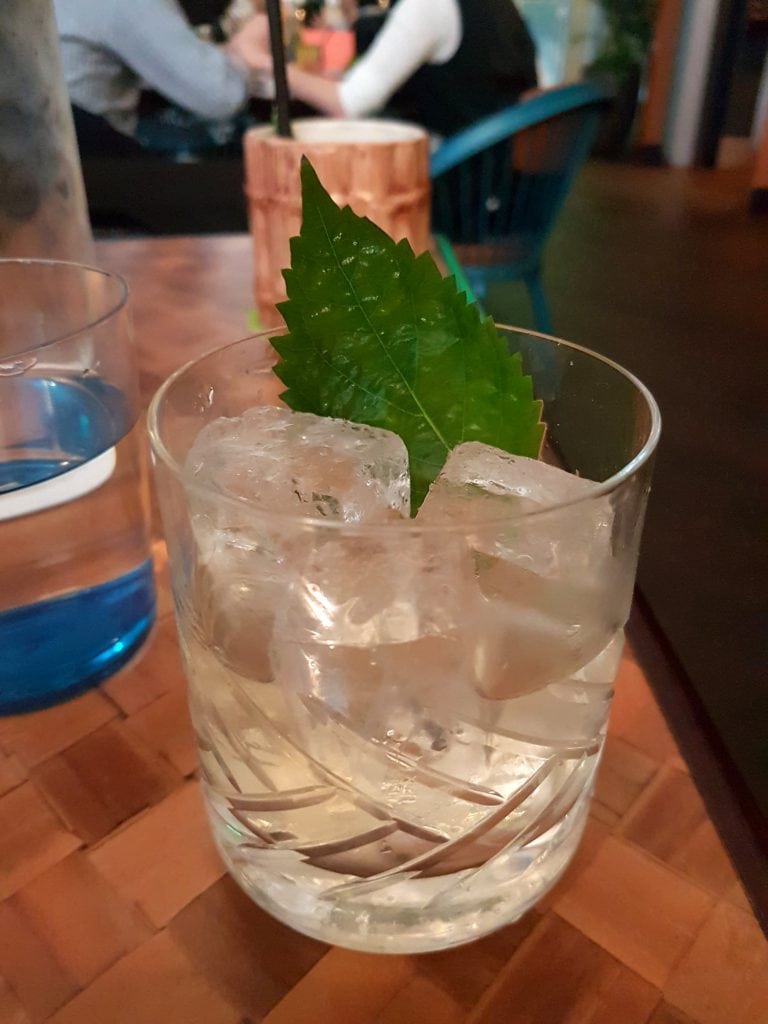 Finally, the "Nobody Touches the Mango", which tasted a lot like mixing mango juice and green curry. Which is to say… not greater than the sum of its parts, and not that interesting or successful to me. It wasn't bad, really, just not great.
Looking at the other cocktail options, most seem to be some variation of the fruity theme, with at least one other fruity+spicy, and honestly I feel like tiki can really be done better than this. We have a glut of tiki options now, so I hope they try a bit harder to stand out.
The Food
I started with the Spam Musubi, which was an interesting take and had some perfectly cooked little quail eggs, but I wanted a bit more crisp from the mochi crust. I found the flavor to be an only semi-successful sweet-savory mix, quite salty, but also with some kind of sweet-ish sauce and a paste (neither listed on the menu as far as I saw). I wasn't in love with this and wouldn't get it again, though it's not badly done, just not my taste, I think.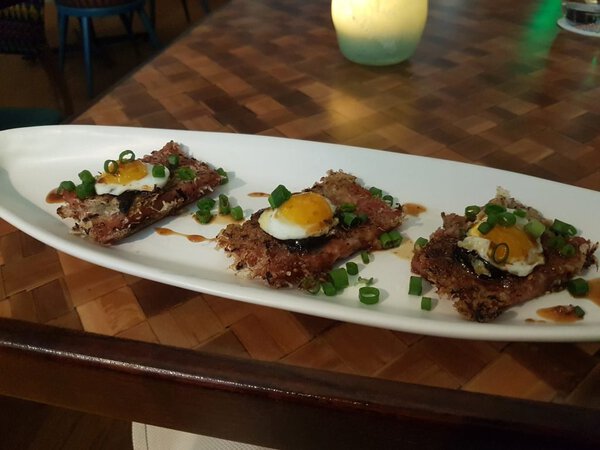 The Huli Huli Chicken was honestly a bit of a disappointment. A nice portion of chicken (thigh, I believe), which was moist and tender, but otherwise lacking in much flavor. Served over a bed of very simply prepared Chinese broccoli, with some slightly-too-chewy rice cakes (the Chinese-style tube-shaped ones, in case you were expecting an actual "cake"), and a rather boring sauce, again sweet-savory to me. This just seemed like such a simplistic and uninspired dish. A great sauce could have made it sing, I imagine, but none of the elements stood out here besides the well-cooked chicken, and honestly that's bare minimum for a Michael Mina establishment.
Finally, dessert, and they were nice enough to randomly bring me one of the lunch menu desserts to try, a Strawberry-Hibiscus Shave Ice, which I honestly quite liked, even more so than the actual dessert that came with the Restaurant Week menu. This was tart-sweet in a good way, with some lovely textural elements, and just the right portion size (smaller than the Coffee & Cream one).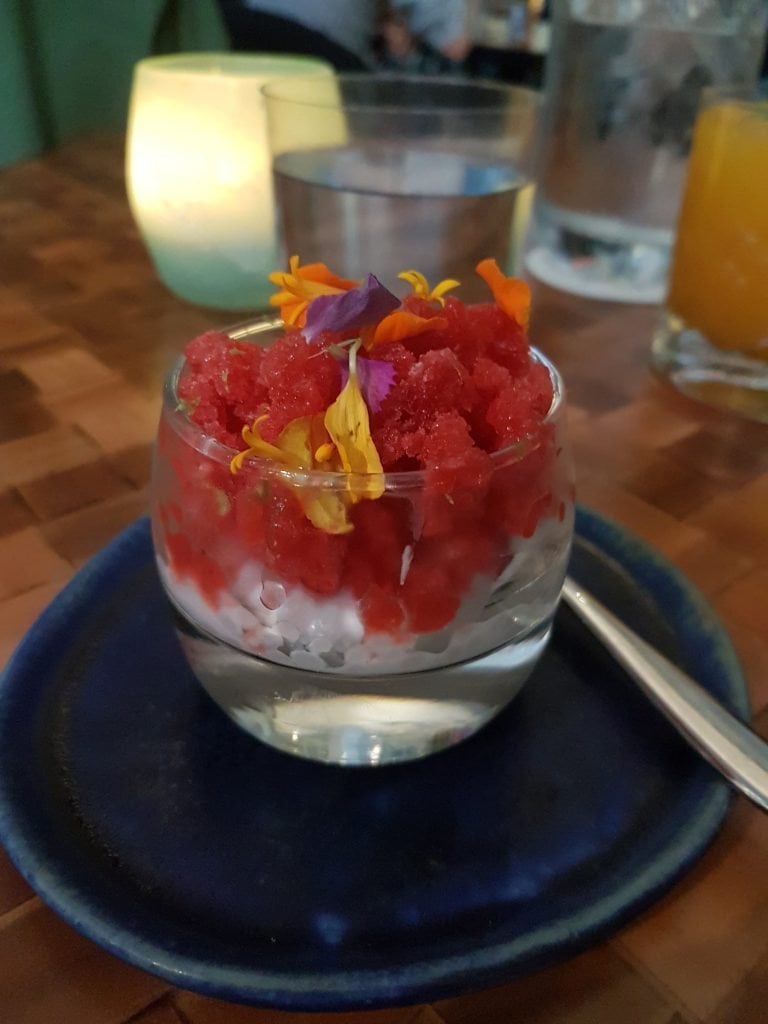 The Coffee & Cream Shave Ice was quite similar to the Strawberry-Hibiscus one in basic concept, which is fine given they're on separate menus and don't overlap. But I found the coffee one to be a bit more one-note, and while it had the gelees in it with more texture, they were a bit bland and a tad too firm, so it didn't really come together for me. It was a larger portion as well, bigger than I thought it needed to be (though good to share, not like it was huuuge).
So overall I found the food to be a bit of a miss, unfortunately. Cocktails were hit and miss as well, but there was at least one standout.
I'm really not sure if I'll return, at least for a while. Maybe with a little time they'll polish things up, put a little more variety in the cocktail menu, and the service will feel more smooth, with less oversight necessary from managers. But it will be harder to address the overall atmosphere issue given the space they have, I think.
All that being said, it feels worth making a couple of points which may have affected my experience. #1: they've been open less than 2 months, so things may improve, #2: I came for the last day of Restaurant Week, and #3: the service was very attentive, just not really my style.